Next Class session:
Seasonal
Only
email azjoad@cox.net
Update (10-26-2004) Well the weather is now beautiful, just in time to move to the indoor season. We may hold practice on Sundays, if there is enough interest to sustain the effort. Let me know. Since the shops are closed on Sundays, maybe there will still be the interest?
Update (10-3-2004) Three Sunday morning archery "beginners" competed in the Arizona State Championships. All won medals and one was selected to the 2004 Arizona Duel in the Desert Team. Fantastic!
Update ( 9-26-2004 ) All AZJOAD Genesis bows have now been fitted with adjustable "sights" Thank you Sunday donors and Straight N Arrow Archery.
Update ( 9-19-2004 ) A dozen take part, 5 are youths.
Update ( 9-12-2004 ) Sunday morning get together proves to be popular.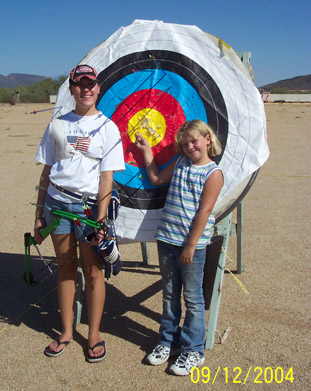 Bull's-eye! Beginner and veteran JOADs learn and train side by side
12 archers ranging from 8 year olds to 60+ masters took part in the inaugural Ben Avery FITA Range beginner JOAD and open training session.

BCA and AZJOAD bales were set up from 10 to 90 meters.

Most are preparing for the State Championship and Duel Trials.

Beginning archers are able to work on technique using club Genesis bows and arrows.

Join in!
---