What's happening for recreational JOADs,
parents and supporters?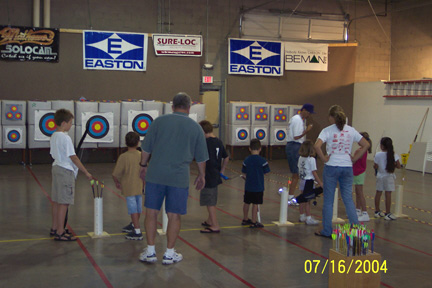 Beginners and Instructors at Straight N Arrow JOAD
For Recreational JOADs and JOAD Volunteers:
Summer is just about over, although the heat and monsoons are not.

Many have taken their summer getaways.

School is getting back into session for most.

School is the number one priority.
Once back into school routine, recreational JOADs will want to get into the weekly JOAD class routine.
Most of Arizona's JOAD clubs have been conducting classes right through the summer.

Mesa Targeteers at Chandler's Archery HQ, are taking summer break, but will be back in session on September 18th.

For club information check out the www.azarchery.com - Arizona Clubs page and the www.azjoad.com - Starting Out page.

If you just can't get enough of organized shooting, check around at the archery shops for leagues.
The beginning of the school year is a great time for parents and JOAD supporters to volunteer and support their JOAD club.
The ASAA will be hosting a NAA Level 1 archery instruction certification class.

Level 1 is great for volunteers and a must to help instruct at a JOAD Club.

Check the ASAA website for Level 1 certification class information.
A word about volunteering. Arizona JOAD Clubs are in constant need of volunteers.
Becoming Level 1 certified is helpful, but not a must.

Besides helping with set up and take down, keeping track of JOAD achievements is a great way to begin to help.

Assisting with check-in, waivers signatures and payment is another good way.

Most JOAD clubs look for a volunteer that is consistent and reliable.

Skills such as fund raising, computers and community outreach are always needed.

The AZJOAD Association can always use "articles" and photos about JOAD clubs activities.
Hoping you have good teachers, both in school and at JOAD!
PS. Are you signed up for the "X Files", the premier National JOAD online newsletter?
Here is the link for more information and its free!
Subscribe to the NAA's FREE JOAD E-Mail NEWSLETTER
Here is the link to the X Files Archives to catch up
http://www.texasarchery.org/joadnews/archive.htm