2004 National Indoor
Target Championship
The Arizona JOAD Story
01/01/2005
March 12, 13, and 14, 2004
Rio Rancho, New Mexico
National Indoor Championship - West Regional
The New Mexico Roadrunners hosted their fourth JOAD and National Regional Indoor Championship Tournament in Rio Rancho, Albuquerque, NM. The format was similar to the previous years with JOAD tournament on Friday evening followed by the NAA Championship over the weekend. This year there was a late morning and late afternoon line on Saturday then an early morning and mid-day line on Sunday. This schedule allowed archers to fly in early Saturday and fly out late on Sunday.
One first timer and eight "veteran" Arizona JOADs made the 6 to 8 hour drive to Rio Rancho. Weather was great, cool, clear and calm. Homemade New Mexico green chile was enjoyed by all at the tournament concession stand.
The officiating staff consisted of Tournament Director/Judge, Jennifer Harvey, Chairman of Judges, Nancy Myrick and Director of Shooting, Linda Misenheimer. There were only a couple of dress code infractions that were quickly fixed with tourney shirts.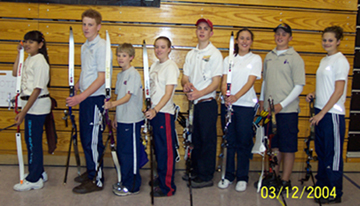 JOAD National Indoor Championship:
Arizona JOAD that participated (l to r):
Corinna Ramirez, Female Bowman Recurve

Ryan Davis, Male Cub Recurve

Mack Huff, Male Bowman Recurve

Maggie Huff, Female Cadet Recurve

Brandon Hunt, Male Junior Compound

Lindsay Pian, Female Junior Recurve

Brady Ellison, Male Cadet Compound

Aprilyn Witt, Female Junior Compound
Over sixty JOADs shot on Friday evening filling the 16 target bales. The spectator area was packed to capacity with family and friends.
JOAD Trophies: You can't talk about Rio Rancho without mentioning the exceptional handcrafted trophy wall hangings. Here is a recap.
National Indoor Championship Tournament:
Just like last year over 100 JOAD, Senior, and Master archers, including a dozen Dine' College team members plus club supporters, competed. The hall was calm in comparison to the JOAD tourney the night before. The tournament ran smoothly and on time, providing a great environment for the archers performance.
1st time at the Regionals was Anne Spire, cadet recurve, who joined the Arizona JOAD for the weekend NAA tourney.
Circumstances do not allow Jenniffer Harvey and the NM Roadrunners to host the 2005 indoor championship. Arizona JOADs and archers from around the southwest will miss the hospitality. Remember to thank the Harvey's and company for their hard work when you see them.
The result are in!
Several of the Arizona JOADs did well at the Rio Rancho and at the Regional level.
Macklin Huff 3rd JOAD Western Region

Corrina Ramirez 3rd NAA Western Region

Brandon Hunt 3rd NAA Western Region

Anne Spire 2nd NAA Rio Rancho

Brady Ellison 1st NAA Western Region
These JOAD also did well at the National Championship competition.
April Witt 5th NAA

Ryan Davis 2nd NAA

Maggie Huff 1st NAA

Lindsay Pian 1st NAA
Congratulation to all the JOADs that competed and the families that supported them.
Serious Fun…
Bob Pian
AZJOAD Coordinator
8681 East Via De Negocio
Scottsdale, AZ 85258
602 228-0465
azjoad@cox.net
www.azjoad.com