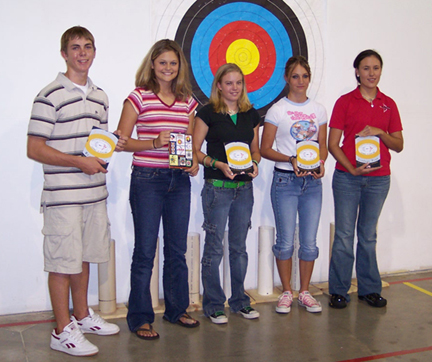 From left to right: Brandon Hunt, Aprilyn Witt, Maggie Huff, Robyn Repp and Lindsay Pian
Not pictured: Ryan Davis, Margaret Hargett, Brady Ellison
August 6, 2004
Eight Arizona JOADs were recognized at Straight N Arrow JOAD Friday night between their beginners and advanced class. The recognition focused on their Nationals and in some cases International achievements.
All were congratulated for their outstanding effort and steadfast family support. The $3145.00 raised and donated to Arizona members of the Jr World Team was distributed to each of the six members of the team, (over $500 each) to help pay for the travel to England. AZJOAD presented a plaque to commemorate their National tournaments and US Jr World Team membership.
Next up are the AZ State Outdoor Championship/Duel in the Desert Trials and the Duel in the Desert, both in October.
The Indoor season starts with a bang in January 2005 with the US World Indoor Championship Team Trials.
Several Arizona JOAD community leaders attended the celebration including:
Mickey Richard and Paula Simpson of the Mesa Targeteers.

Mike Koistinen, Arizona State Archery Association, President

Doug Witt, ASAA Board Member and Straight N Arrow Club Leader

Alan Huff, ASAA Board Member, Precision Shooters JOAD, Tucson

Ted Harden, NAA Western Region JOAD Coordinator

Ted Harden2, currently working on establishing an archery club at ASU.

The JOADs families and Straight N Arrow JOAD beginners.

Bob Pian, Arizona JOAD State Coordinator
Here is an summary of the presentation:
Maggie Huff, had a very active season.
World Archery Festival, Las Vegas

1st Place JOAD Indoor Nationals

1st Place Indoor Nationals, Indoor National Champion

US Jr World Trials won a US Team position

US Olympic Trials in Ohio

3rd place JOAD Nationals

Qualified 16th in the Jr World Championship, England

Projected 2nd in Jr USAT ranking
Aprilyn Witt, 8 National Tournaments
World Archery Festival, Las Vegas

JOAD Indoor Nationals

Indoor Nationals

AZ Cup

Texas Shootout

US Jr World Team Trials,

2nd place at JOAD Outdoor Nationals

2nd place at National Target Championship

2004/2005 Jr US Archery Team, third time
Brandon Hunt, 7 National tournaments
World Archery Festival, Las Vegas

JOAD Indoor Nationals

Indoor Nationals

AZ Cup

US Jr World Team Trials

JOAD Nationals perfect 360 at 30 meters

6th Place at National Target Championship

Possible Jr US Archery Team
Robyn Repp focused on the Junior Worlds
World Archery Festival, Las Vegas

US Jr World Trials won a US Team position

New world record for 40 meter at Jr. World Outdoor Championship

Team event Silver Jr World Championship in England

Competed as a Cadet even though she is a Cub
Lindsay Pian, great first year as a junior
World Archery Festival, Las Vegas, 2nd place in the Senior Championship division.

1st Place JOAD Indoor Nationals

1st Place Indoor Nationals as the Junior Indoor National Champion

AZ Cup

US Jr World Trials won a US Team position

Qualified top 10 in the US Olympic Trials, overall 16th finish

1st place JOAD Outdoor Nationals, National Champion

Qualified 13th in the Jr World Championship in England

1st in Jr USAT ranking, 2004/2005 team member, three time Jr USAT member
The following were also recognized but were unable to attend:
Ryan Davis, Tucson
JOAD Indoor Nationals

2nd Indoor Nationals

US Jr World Team Trials won a US Team position

1st place JOAD Outdoor Nationals, National Champion

Jr World Championship, England

Competed as a Cadet even though he is a Cub
Margaret Hargett, Payson, focused on the Jr Worlds
3rd Intermediate Girl Compound at the World Archery Festival, Las Vegas

US Jr World Team Trials won a US Team position

Team event Silver Jr World Championship in England
Brady Ellison, Glendale, Very successful season
World Archery Festival, Las Vegas

JOAD Indoor Nationals

Indoor Nationals

US Jr World Trials won a US Team position

1st place JOAD Outdoor Nationals, National Champion

Team Gold Jr World Championship in England

1st place National Target Championship

2004/2005 Jr US Archery Team