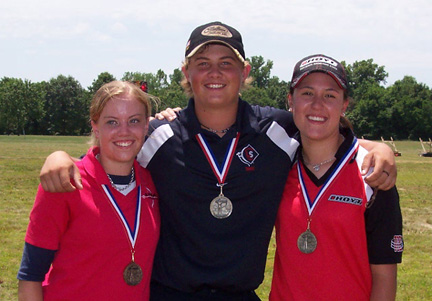 Three Arizona JOADs named to the 2005-2006 Jr US Archery Team.
(l to r, Maggie Huff, Brady Ellison, Lindsay Pian)
Maggie Huff, Junior recurve, Tucson, made the Jr USAT the first year she was eligible as a Junior. Congratulations and good work Maggie

.

Brady Ellison, Junior compound, Glendale, was on the team last year as the Cadet member. This year he mad

e

the team as a Junior member.
Lindsay Pian, Junior recurve, Scottsdale, made the Jr USAT team for the fourth and last time. Now off to the Collegiate Division at ASU
Many other Arizona JOADs did well in the National Rankings.
Mollie Moore, Junior recurve, was ranked 5th in the USA with only some pesky qualifying criteria keeping her from making the team.
Robyn Repp, Cadet compound, finished the year ranked 6th in spite of competing in only one of four ranking tournaments.
Annette Gorelik, finished the year with ranked 6th in the very competitive Cadet Recurve division.
Aprilyn Witt, Junior compound, finished in 6th place and just missed making the team by 1/2 point.
Ashley Votruba, Junior compound, competed in only the National Target Championship and managed a top 10 ranking. Good luck at ASU.
Ryan Davis, Cadet recurve, finished in 14th place in national ranking in spite of only competing in two of the four ranking tournaments. Ryan

'

s division is one of the most competitive in JOAD.
The next tournament for Arizonans is the Duel in the Desert Trials to be held at the Ben Avery Shooting Facility, Phoenix on Oct. 1-2. The Arizona Duel in the Desert Team will compete against California in Long Beach CA on Nov. 5-6.
All of the Arizona JOADs mentioned above, with the exception of Lindsay, Ashley, and Aprilyn, who have "aged out", are eligible to compete in the 2006 US Jr. World Team Trials. The Trials will be held in Chula Vista, California in May of 2006. The Jr World Championship is reported to be awarded to Mexico and held later in 2006.