.Papago FITA Archers and Straight N Arrow North JOAD work hard on behalf of the ASAA at BASF.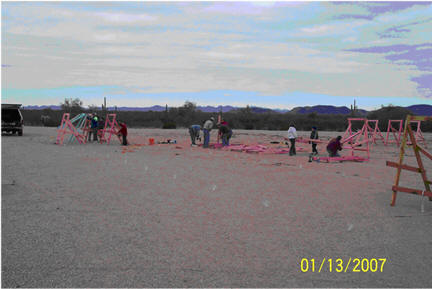 PFA volunteers refurbish each stand in assembly line fashion.
Papago FITA Archers and PFA JOAD members worked from dawn to dusk and rebuilt ASAA target stands at BASF. The work party was led by club president, Mike Cullumber and PFA JOAD Coach Ed Votruba. The PFA members exceeded a dozen at times during the day. The work included complete disassembly/reassembly, repair, gluing, screwing and sanding for painting.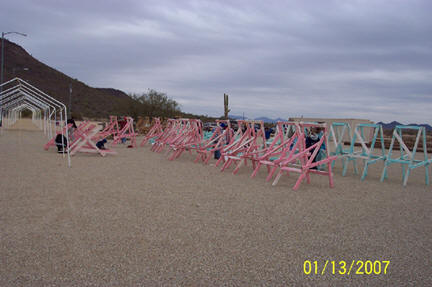 SNANJ Volunteers prime before painting.
Say good-bye to teal and pink: After the PFA work, Straight N Arrow North JOAD and Straight N Arrow JOAD Phoenix took the stands and began priming and painting at mid-day. The SNANJ and SNAJ priming and painting effort is led by Heather Collins Brunelle and with Valerie Carlisle, are the 2007 Arizona JOAD Co-coordinators. Like the PFA, SNA also had over a dozen volunteers.
The weather was cold breezy with temps between 40 to 50 degrees F. PFA and SNANJ are planning another weekend work party in a few weeks to finish up. When the work is completed all 78 target stands will be painted "Ben Avery Tan" and will be tournament ready. Ten newly refurbished stands will be used at the State Indoor Championship in Prescott at the end of the month.
The second DOS stand stair has been built by Bob Pian.
Arizona State Archery Association funding of the club's efforts will help each club with their own projects. Please join the ASAA community in thanking the PFA and SNANJ/SNAJ for their conscientious work effort.
End