How is the
Round Robin seeded
and how is it
going to run?
---
For the Round Robin, flights to be determined based on Qualification Ranking Round score
Top 48 archers enter the Round Robin Match Play.
There will be 8 Flights of 6 archers each. Archers within their flight will shoot a match against all others in their flight for a total of 5 matches per flight.
We will be using the World Archery SET point system for all matches including compounds.

Match points will be based on the World Archery "Set Points" system. Best of 5 Sets. Each set is 3 arrows. Based on end score, the winner gets 2 pts, if tied each gets 1 pt. for that set.

First to 6 or more set points wins that match. If still tied after 5 sets, then one arrow closest to center arrow determines the winner of that match.

All archers regardless of age, gender or bow type will be seeded based on their qualifying score.

The top scorers will be in one flight, the middle scorers in the second flight and the lower scorers in the third flight, etc. This approach should keep the match play competitive since similar shooters will be matched.

Remember that compound will be shooting the inner ten and recurve the outer ten, regardless of their opponent's bow type.

Round Robin match play will be shot on the Vertical 3 Spot target so there is no top or bottom advantage. Any shoot-offs will be into the center target spot.

The archer who wins the most matches in their flight is the Iron Archer winner of that flight.

After 5 matches, If 2 archers in the same flight are tied with number of match wins, then they will shoot an additional match against each other to determine that Iron Archer Flight winner.

After 5 matches, If 3 or more archers in the same flight are tied with match wins, then those archers will shoot a single arrow shoot-off to determine the 2 archers who will shoot the final match.
2014 Iron Archer Tournament
Dec. 6 - 7, 2014
---
Multi-purpose Indoor Archery Range at Ben Avery
(Air Pistol Range)
---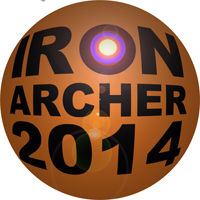 11th Anniversary
Qualification Results Round Robin Results Photo Gallery
The 2014 Iron Archers:
| | |
| --- | --- |
| Gold | Danielle Reynolds |
| Silver | Wade Flake |
| Bronze | Hayden Longbons |
| Copper | Danii Gunn |
| Yellow | Gary Yamaguchi |
| Red | Ashlyn Merritt |
| Blue | Arvid Veidmark |
| Black | Madison Hunter |
---
FITA I Qualification Round (600 Round - 18m) - 60 arrows
2 Ranking Round Sessions:
Saturday AM - Dec. 6 (60 arrows) Limit 48 archers
Saturday PM - Dec. 6 (60 arrows) Limit 48 archers
---
Cut to top 48
Round Robin Match Play
Sunday - Dec. 7
---
page updated 12/09/2014
Who:

USA Archery membership is required

Non-USA residents must be a member of their World Archery member association.

Current USA Archery membership page may be found here.

What:

USAA and World Archery Star FITA Sanctioned qualifying Indoor 600 rounds. There are arrow size limits, compound draw weight limits and all compounds shoot inner ten ring and all recurve shoot outer ten ring. There will be equipment inspection at sign-in.

Reminders:

arrow shafts must not be larger than 9.3mm or points larger than 9.4mm

compound peak draw weight must not exceed 60 pounds as measured on the tournament scale.

Complete rules may be found at www.archery.org

Dress code for this tournament is modified to allow blue denim jeans. Wear your sponsor shirts with pride!

Where:

Multi-Purpose Indoor Range at Ben Avery Shooting Facility

(also known as the Air Pistol building)

(Proceed directly to the Indoor Building, you do NOT have to check-in at the Main Range)

Shooting

Schedule

SATURDAY, Dec. 6, 2014

(Ranking Round – shooting two lines (AB-CD)

Morning AM Qualification Session - Limit 48 archers

7:00 AM - BASF gates open

7:30 AM - Doors open

8:00 AM Check-in, Set-up and equipment inspection (Open practice may be available)

8:30 AM - 2 ends of official practice and then scoring

Afternoon PM Qualification Session - Limit 48 archers

There may be open practice after the morning session has cleared the range.

1:00 PM Check-in, Set-up and equipment inspection (Open practice may be available)

1:30 PM - 2 ends of official practice and then scoring

Scores from both sessions will be combined and the TOP 48 archers will be eligible to enter the Round Robin Match Play on Sunday.

---

SUNDAY, Dec. 7, 2014 (Match Play - 8 Flights of 6 archers each = 48 Archers)

(Each archer will shoot a match against each archer within their flight for a total of 5 matches)

7:00 AM - BASF gates open

7:30 AM - Doors open - Open Practice may be available

8:30 AM 2 ends of official practice and then scoring

Lunch break TBD, typically after 3 matches.

Awards immediately following last match ( Flight winners are the "Iron Archers"

How:

Archer's 600 round point total will be used for ranking to make the cut and then for flight placement for Round Robin Flights.

All archers may select a FITA 40 cm; ten ring target, vertical 3 spot or triangular 3 spot for the Qualification Ranking Round.

Round robin matches will be shot on the VERTICAL 3 spot.

How much:

Adults - $60 (Entry Fee includes $12 BASF range fee, a portion of the $375 BASF building rental fee, target faces, official and World Archery/USAA tournament Star FITA fees)

Youth - $50 (Entry Fee includes, a portion of the $375 BASF building rental fee, target faces, official and USAA tournament Star FITA fees)

Only online registration and payment is available.

Online Registration form provides for PayPal payment by credit card. Credit Card payment at the venue is not available.

USAA membership information Link to USAA membership info

Space is limited, sign up early.

Insurance: The participants will be covered by the USAA insurance upon full execution and signature of the USAA/Arizona JOAD Association liability waiver.

Proceeds of the tournament go to help fund AZJOAD programs.

No refunds for no shows!

Archers not making the top 48 cut will receive a refund via PayPal to your credit card of:

Adults = $20 refund

Youth = $15 refund

No refunds for no shows!

Please select EITHER the Morning Session OR the Afternoon Session, not both. Proceed to that form to Register and Pay. Each session is limited to 48 archers on a "first come" basis.

Waiver: Archers will need to sign a waiver as part of the online form. Parents or guardians must also sign for archers under 18.

Problems Registering? email Janice: admin@azjoad.com

General Questions? email Bob at azjoad@cox.net

Background:

The Iron Archer is ideal preparation for the:

Arizona State and JOAD Indoor Championships

Las Vegas World Archery Festival

USAA National Indoor Championships

Mental Practice for Outdoor Match Play

Archives:

Here are links to pictures and write-ups about the:

Notes:

The 600 round is registered with USA Archery and World Archery for qualifying score sanctioning and is available for World Records.

The 600 round (18m) will be conducted per FITA I requirements.

600 round = 20 ends of 3 arrows, 2 minutes per end.

Tournament will use the venue's target buttresses and is not responsible for the condition of the buttresses.

Tournament proceeds after expenses will be used to fund AZJOAD program projects.

List of registrants will be posted on this webpage.

Archives

Forms for reference only

2014 Iron Archer - Morning Qualification Session